Jepson Bolton's International Catalogue
---
Hotplates.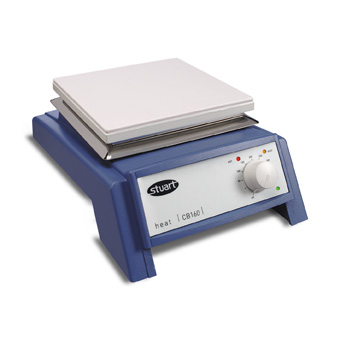 CB160 & SB160
Choice of robust aluminium or chemically resistant ceramic tops.

Advanced safety features:
- Flashing "hot" warning light to warn when top plate is too hot to touch.
- Spillproof design which helps deflect spills away from the controls and the user.
- Independent safety circuit to protect against overheating.

Microprocessor control for accurate temperature setting.

General purpose, reliable hotplates with compact A4 footprint.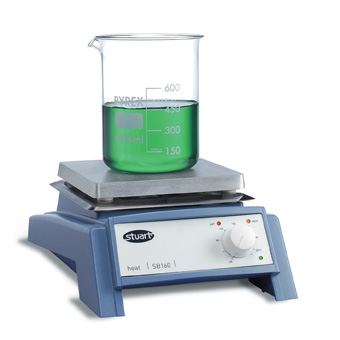 These hotplates have microprocessor control of temperature allowing a calibrated scale to be printed around the control dial in ºC rather than an arbitrary 1 - 10 scale.
The "Hot" warning light will flash whenever the plate temperature is above 50°C and will operate even when the hotplate is turned off and connected to the mains.
Model CB160 has a glass ceramic top which has excellent chemical resistance and allows high plate temperatures for faster heating.
Model SB160 has a robust aluminium/silicon alloy top plate which will withstand the knocks of everyday use.
---
Technical specification

                                CB160 		        SB160
Plate material 		        Glass ceramic 		Al/Si alloy
Plate dimensions, mm 		160 x 160 		160 x 160
Heater power, W 	        500 		        700
Max. plate temp, °C 		450 		        325
Overall dimensions (w x d x h) 	190 x 300 x110 		190 x 300 x110
Net weight, kg 			2.5 		        2.5
Electricity supply 		230V, 50-60Hz 		230V, 50-60Hz

---
Ordering Information

Model 	Description                        Cost
CB160 	Hotplate, ceramic top, analogue    - £203.50
SB160 	Hotplate, metal top, analogue      - £199.80


* To request further information please Email enquiry@jepbol.com