Jepson Bolton's International Catalogue
---
Hotplates, large capacity
CB500 & SB500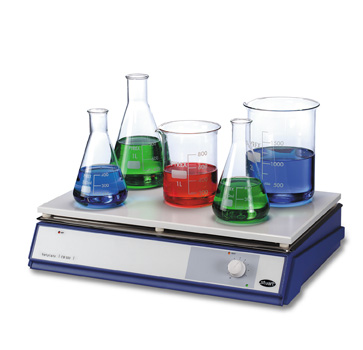 Choice of top plate material, metal or ceramic
Large plate area ideal for heating multiple vessels
Accommodates up to 30 x 100ml beakers

These large rectangular shaped hotplates are ideal for heating many smaller vessels simultaneously, e.g. in educational use where lots of students require their samples heated at the same time.

An easy to use knob located on the front of the hotplate controls the top plate temperature. The robust side arms make the unit very easy to carry.

The large surface area may stay hot for a long time after use,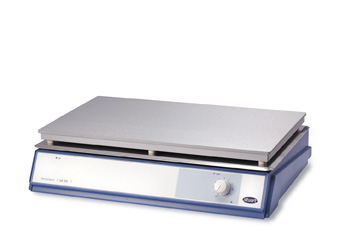 so for maximum safety, a bright red hot warning light will continue to flash until the hotplate is cool. There are two models to choose from:
Model CB500 has a glass ceramic top plate. It is easy to clean in the event of spillage and, due to unique thermal properties, can be heated to very high temperatures giving very fast heat up times.
Model SB500 has an aluminum / silicon alloy top plate. This material has very good conductive properties so will give a very even plate temperature. This means all samples, no matter where they are placed on the hotplate, will be subjected to the same conditions for excellent uniformity and reproducibility.
---
Technical specification

                                 CB500             SB500
Plate material                   Glass ceramic     Al/Si alloy
Plate dimensions, mm             300 x 500 	   300 x 500
Heated area, mm                  250 x 450 	   300 x 500
Heater power, W                  2250 		   1500
Max. plate temp. °C 		 375 		   300
Overall dimensions, (w x d x h)  520 x 360 x 130   520 x 360 x 130
Net weight, kg 			 12                12
Electricity supply 		 230V, 50-60Hz     230V, 50-60Hz
---
Ordering Information

Model 	Description                        Cost
CB500 	Hotplate, ceramic top, analogue    - £527.25
SB500 	Hotplate, metal top, analogue      - £508.75
  
---
* To request further information please Email enquiry@jepbol.com