Jepson Bolton's International Catalogue
---
Hotplate, digital
SD160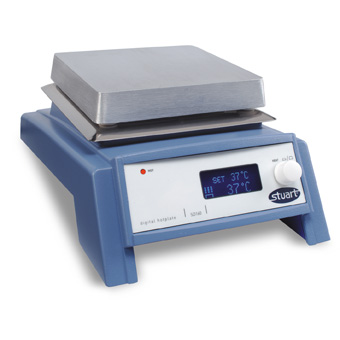 Accurate digital setting and control of plate temperature

Microprocessor for very accurate temperature control

Simultaneous display of set and actual temperature

A stylish digital hotplate designed for very accurate control of plate temperature. Ideal for microarrays, in-situ hybridisation and specialised electronics applications.

The excellent heat transmission of the robust aluminium top plate combined with state of the art digital temperature control gives rapid heating and ensures very even temperature distribution across the whole of the plate.

The easy to read digital display indicates both set and actual plate temperature and the encoder control allows rapid and accurate temperature selection.

The cast aluminium body is shaped for stability and also helps deflect spills away from the user. The 'Hot' warning light will flash whenever the plate temperature is above 50ºC.

An independent safety circuit protects against overheating and internal electronic components are protected against corrosion.
---
Technical specification

Plate material 			    	 Al/Si alloy
Plate dimensions, mm 			 160 x 160
Heater power, W 			 700
Max. plate temperature, °C 		 325
Display resolution, °C			 1
Temperature variation across plate, °C 	 ±0.2 @ 37°C/±1.0 @ 150°C
Temperature stability, °C 	         ±0.25
Overall dimensions, (w x d x h), mm 	 190 x 300 x 110
Net weight, kg 				 2.5
Electricity supply 		         230V, 50-60Hz , 700W

---
Ordering Information

Model 	Description      Cost
SD160 	Hotplate, metal top, digital - £425.50
---
Hotplate/stirrers accessories
A complete range of accessories is available for Stuart hotplates and stirrers (160 x 160mm plate size). From protecting the equipment to bringing solutions for heating different shape vessels, these accessories are the safe and easy way to get the most from your hotplate.
---
Protective Covers
Fits snugly around the outercase
Economic protection against spillage of chemicals
Resistant to most common chemicals and solvents
Manufactured from Esco® silicone rubber
---
Oil / Water Bath
Robust aluminium construction
Safe alternative to using glass containers
Cool phenolic handles
Four feet to secure the bath onto the plate
Large 2 litre capacity
---
Sand Bath
Perfect to dry heat test tubes or any small vessels.
Robust aluminium construction
Four feet to prevent the bath from moving off the plate
1 litre capacity
---
Round bottom flask block
Transform hotplates into heating mantles!
Robust aluminium block with securing feet
Four different sized holes for 25ml, 50ml, 100ml and 250ml round bottom flasks.
Pre-drilled hole for thermometer or other types of temperature probe
---
Ordering Information

Model 	Description                                       Cost
SB16/1 	Protection cover hotplate or stirrer only        - £17.11     
SB16/2 	Protection cover stirrer/hotplate analogue       - £17.11
SB16/3  Protection cover stirrer/hotplate digital        - £17.11
SB16/4 	Protection cover hotplate digital                - £17.11
SB16/5 	Oil / water bath                                 - £54.58
SB16/6 	Flask block                                      - £119.33
SB16/7 	Sand bath                                        - £48.10
SR1	Retort rod                                       - £18.50

---
* To request further information please Email enquiry@jepbol.com