Jepson Bolton's International Catalogue
---
EVAPORATORS - ROTARY
Rotavapors Buchi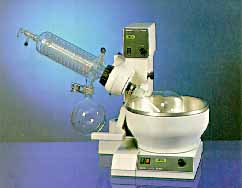 Since its introduction in the fifties, the Buchi Rotavapor has become an essential instrument in the modern laboratory and pilot plant. As acknowledged world leaders in the field of rotary evaporators, Buchi products have set enviable standards of performance and reliability. The new models listed in the following pages continue the Buchi traditions and show unsurpassed levels of innovative design, ergonomics and functional efficiency.

Operating principle

The Rotavapor is essentially a distillation unit incorporating a rotating evaporation flask. The Rotavapor will evaporate solvent at a much faster rate than systems using stationary evaporation flasks.

The rotation transfers a thin film of the liquid sample to the whole of the inner surface of the flask, markedly increasing evaporation rate and assisting heat transfer from the heating bath. The rotating flask and vapour duct have a sealing system which allows operation under vacuum, further accelerating the evaporation process because of the reduction in boiling point of the solvent and efficient removal of the vapour phase. Vacuum operation also permits heat-labile materials to be successfully concentrated without degradation.

The evaporators can be evacuated down to 1 mbar if the vacuum seals are maintained in good condition. A high level of operational safety is ensured when working under reduced pressure by the provision of 'Plastic + Glas' safety-coated glassware and a new polycarbonate safety screen which is available as an option for all bench-scale models.

A continuous feed facility considerably increases the capacity of the units and distillate withdrawal facilities on some units allows uninterrupted operation.
Model Range
There is a range of models covering an evaporation flask capacity from 30ml to 100 litres. The majority of these models may be used on the laboratory bench; the two largest models, one of which is Ex-Proof. are free-standing units desiqned for use in pilot plants etc.

A comprehensive range of accessories is available.

The range consists of:

  Model     Capacity          Orme ref

  M         30 to 200ml       E60-100/120

  RE114     50 to 3000ml      E58-100/156

  RE124     50 to 3000ml      E58-200/254

  RE134     50 to 3000ml      E58-300/352

  RE144     50 to 3000ml      E58-400/452

  R-153     6 to 20 litres    E63-102/146

  R-187     20 to 100 litres  E65-150/165

* R-187Ex   20 to 100 litres  E65-170/185
* Explosion-proof model

---
Rotavapors Buchi model R-114 Assembly A

E58-100  Rotavapor Buchi model R-114 Assembly A with

         diagonal condenser, Servojack and waterbath   £1425.00


E58-102  Rotavapor Buchi model R-114 Assembly A with

         diagonal condenser, Servojack and digital

         waterbath                                     £1610.00


E58-104  Rotavapor Buchi model R-114 Assembly A with

         diagonal condenser, Servojack and oilbath     £1480.00


E58-106  Rotavapor Buchi model R-114 Assembly A with

         diagonal condenser and Servojack but without

         bath                                          £1225.00

---
Rotavapors Buchi model R-114 Assembly V
E58-110 Rotavapor Buchi model R-114 Assembly V with vertical condenser, Servojack and waterbath £1625.00 E58-112 Rotavapor Buchi model R-114 Assembly V with vertical condenser, Servojack and digital waterbath £1730.00 E58-114 Rotavapor Buchi model R-114 Assembly V with vertical condenser, Servojack and oilbath £1650.00 E58-116 Rotavapor Buchi model R-114 Assembly V with vertical condenser and Servojack but without bath £1395.00
---
Rotavapors Buchi model R-114 Assembly C
E58-120 Rotavapor Buchimodel R-114 Assembly C with cold trap, Servojack and waterbath £1660.00 E58-122 Rotavapor Buchi model R-114 Assembly C with cold trap, Servojack and digital waterbath £1820.00 E58-126 Rotavapor Buchi model R-114 Assembly C with cold trap and Servojack but without bath £1425.00
---
Rotavapors Buchi model R-114 Assembly S
E58-130 Rotavapor Bdchi model R-114 Assembly S with vertical condenser, reflux facility, Servojack and waterbath £1850.00 E58-132 Rotavapor Buchi model R-114 Assembly S with vertical condenser, reflux facility, Servojack and digital waterbath £2010.00 E58-134 Rotavapor Buchi model R-114 Assembly S with vertical condenser, reflux facility, Servojack and oil bath £1875.00 E58-136 Rotavapor Buchimodel R-114 Assembly S with vertical condenser, reflux facility and Servojack but without bath £1580.00
---
Rotavapors Buchi modeI R-114 Assembly CR
E58-140 Rotavapor Buchi model R-114 Assembly CR with cold trap, reflux facility, Servojack and waterbath £1925.00 E58-142 Rotavapor Buchi model R-114 Assembly CR with cold trap, reflux facility, Servojack and digital waterbath £2095.00 E58-146 Rotavapor Buchi model R-114 Assembly CR with cold trap, reflux facility and Servojack but without bath £1675.00
---
Rotavapours Buchi model R-114 Assembly E
E58-150 Rotavapor Buchi model R-114 Assembly E with extraction glassware system, Servojack and waterbath £2075.00 E58-152 Rotavapor Buchi model R-114 Assembly E with extraction glassware system, Servojack and digital waterbath £2225.00 E58-154 Rotavapor Buchi model R-114 Assembly E with extraction glassware system, Servojack and oilbath £2075.00 E58-156 Rotavapor Buchi model R-114 Assembly E with extraction glassware system and Servojack but without bath £1785.00
 
          

---



Parts
Ordering information for spare parts
MOTOR DRIVE UNITS
E58-500 Drive unit R-114 £355.00 E58-505 Drive unit R-124 £528.00 E58-510 Drive unit R-134 £1525.00 E58-515 Drive unit R-144 £1535.00 SERVOJACKS E58-520 Servojack B-015 for R-114,R-124 & R-134 £565.00 E58-525 Servojack B-016 for R- 144 £665.00 HEATING BATHS E58-530 Waterbath B-480 £315.00 E58-535 Digital Waterbath B-481 £479.00 E58-540 Oil bath B-485 £345.00 SEAL ASSEMBLY KITS E58-565 Seal kit to convert A, V & C to S, CR & E £51.75 E58-570 Seal kit to convert S, CR & E to A, V & C £24.25 PROTECTIVE SCREEN E58-575 Protective screen for all assemblies £305.00 TEMPERATURE PROBES E58-580 Bath temperature probe £104.00 E58-582 Vapour temperature probe Assembly A £127.00 E58-584 Vapour temperature probe Assembly V,S & E £94.00 E58-586 Vapour temperature probe Assembly CR £118.00 DUAL TEMPERATURE PROBES E58-590 Dual temperatu re probe Assembly A £121.00 E58-592 Dual temperature probe Assembly V,S & E £156.00 VACUUM SEALS To fit Description Assembly Pack of 2 E58-600 Vacuum seal A, V & C £24.50 E58-610 Vacuum seal S, CR & E £38.95 To fit Description Assembly Each E58-612 Protection ring PTFE S, CR & E £17.85 E58-614 Flat seal S, CR & E £1.25 E58-616 Support ring S, CR & E £3.80
---
* To request further information please Email enquiry@jepbol.com