Fraction Collection Buchi model B-684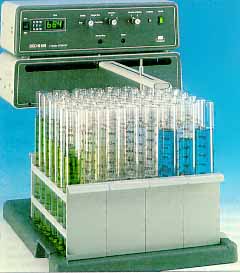 A robust, precision instrument suitable for virtually all types of fraction collection and capable of functioning equally well either as a stand alone unit or as the principal module in Buchi Chromatography systems. The collection process is on an elapsed time basis which can be preset from 1 second to 999 minutes per fraction. Three types of tube racks (supplied separately) are available for 20ml, 50ml and 250ml tubes respectively. A distribution plate is also available for collecting fractions of unlimited size. A three-way solenoid valve is employed to divert flow to waste during changeover.

The unit is equipped with three switched and three direct power output sockets to enable detectors, pump, gradient former etc. to be powered or controlled by the fraction collector. For precise control of peak separation and collection, the B-684 may be advantageously used in conjunction with the B-686 peak detector or any detector system having a 10mV output. Optional eluant level detectors may be employed to shut down the system in the event of solvent reservoirs running dry or overflowing.

The B-684 is supplied complete with power cables for auxiliary units, changeover valve and all necessary tubing and fittings but without racks and tubes which should be ordered separately.
Specification


Collection options                    240 x 20ml tubes

                                      120 x 50ml tubes

                                      48 x 250ml tubes

                                      1 to 4 distribution plates

                                      each with 12 positions

Collection time per fraction          1 to 999 secs/mins

Maximum throughput                    200 ml/min

Materials in contact with solvent     PTFE, Kel-F, Kalrez, borosilicate glass

(Additional with distribution plate)  Stainless steel, polyethylene

Console inpLlts                       Detector, B-686 Peak Detector,

                                      Eluant level detector(s), Pressure sensor

Consolec outputs                      3 switched power, 3 continuous

                                      power; changeover valve, X-Y drive,

                                      event marker, recorder

Dimensions l x w x h                  480 x 420 x 550 mm

Weight (without racks)                15.4 kg

Weight of 4 racks                     6.3 to 9.5 kg (depending on rack size)

Electrical requirements               240V 25W


Ordering information



C21-200  Fraction Collector model B-684,

         supplied without racks or tubes

         Buchi ref 22604                                   £3800.00

C21-210  Set of 4 racks with 300 x 20ml tubes

         Buchi ref 22617                                    £399.00

C21-212  Set of 4 racks with 120 x 50ml tubes

         Buchi ref 22616                                    £512.00

C21-214  5et of 4 racks with 48 x 250ml ubes

         Buchi ref 22615                                    £472.00

C21-216  Distribution plate with 12 positions

         for unlimited fraction size, holder

         and 12m of Teflon hose                             £210.00

C21-220  Spare rack for 20ml tubes 

         Buchi ref 22081                                     £88.00

C21-222  Spare rack for 50ml tubes

         Buchi ref 22082                                     £85.00

C21-224  Spare rack for 250ml tubes

         Buchi ref 22083                                     £88.00

C21-226  Distribution plate, 12 position 

         Buchi ref 22635                                    £124.00

C21-228  PTFE hose

         Buchi ref 22668 Per metre                            £7.05

C21-230  Collecting tubes, 20ml

         Buchi ref 22612 Pack of 100                         £69.50

C21-232  Collecting tube, 50ml

         Buchi ref 22625                                      £3.55

C21-234  Collecting tube, 250ml

         Buchi ref 22626                                      £5.90

C21-586  Eluant exhaustion detector for use

         with fresh solvent reservoir Connects to input

         of B-688 pump or B-684 fraction collector.

         Buchi ref 28558                                    £489.00

C21-588  Eluant over-fill detector for use

         with waste solvent reservoir. Connects to input

         of B-688 pump or B-684 fraction collector.         £489.00


---
* To request further information please Email enquiry@jepbol.com