Homogeniser IKA Ultra Turrax T25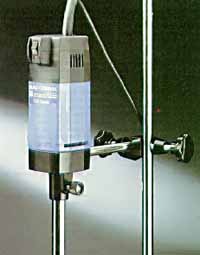 This highly efficient homogeniser consists of a drive motor with integral speed control and a series of interchangeable shafts to suit most homogenising and dispersing operations in the sample range of 0.3 to 2,000ml.

The drive motor is a compact unit which may be clamped by its support rod in a standard laboratory bosshead. The motor is fitted with ON/OFF switch and integral stepless electronic speed control.

The shaft has a stationary outer tube and a concentric inner tube which is rotated at high speed. The ends of both rotor and stator are castellated and, by running the motor at high speed, very efficient homogenisation can be achieved to give dispersion in the micron range.

Three shaft types are available with either PTFE or Viton bearing/sealing material. Types with PTFE shaft bearings are available with 8, 10, 18 and 25mm diameter generator heads. Types with Viton shaft bearings are available with 18 and 25mm diameter generators, with two different designs of 25mm generator. In total, there are seven different shafts.